Hollywood's award session has officially kicked off and the Golden Globes presented not only the hilarious tandem of Tina Fey and Amy Poehler, but also numerous, lust-worthy, gorgeous gowns. I was deliriously happy that Tina and Amy rocked the show and the critics finally said what we've all known for years - women are freaking hilarious!
Back to the fashion piece. Washington DC, and the surround area, is on notice for this weekend's inauguration balls as to what is in style in the beginning of 2013.
I might be in the minority here, but I think if someone is going to go to a ball honoring the President of the United States, then you should wear something that was actually made in the USA. #JustSaying
With that in mind I searched around and found quite a few gowns that you could add to your closet or rent for less than $200. Look, this is one of those times where I could have done some damage and shown ridiculously expensive dresses made in the USA, but showing off dresses in the $500+ range really doesn't help convey the message that you can wear things made in the USA and not go broke in the process.
Back to the dresses!
Red was a big color winner at the Golden Globes over the weekend. Claire Danes, Jennifer Lawrence, Zooey Deschanel, Marion Cotillard, Naomi Watts, Jennifer Garner, Miranda Kerr, and others all wore some version of red and each looked amazing. Jessica Alba looked phenomenal and was absolute perfection.
Since I'm a red head and typically avoid wearing red I had to throw in a purple dress: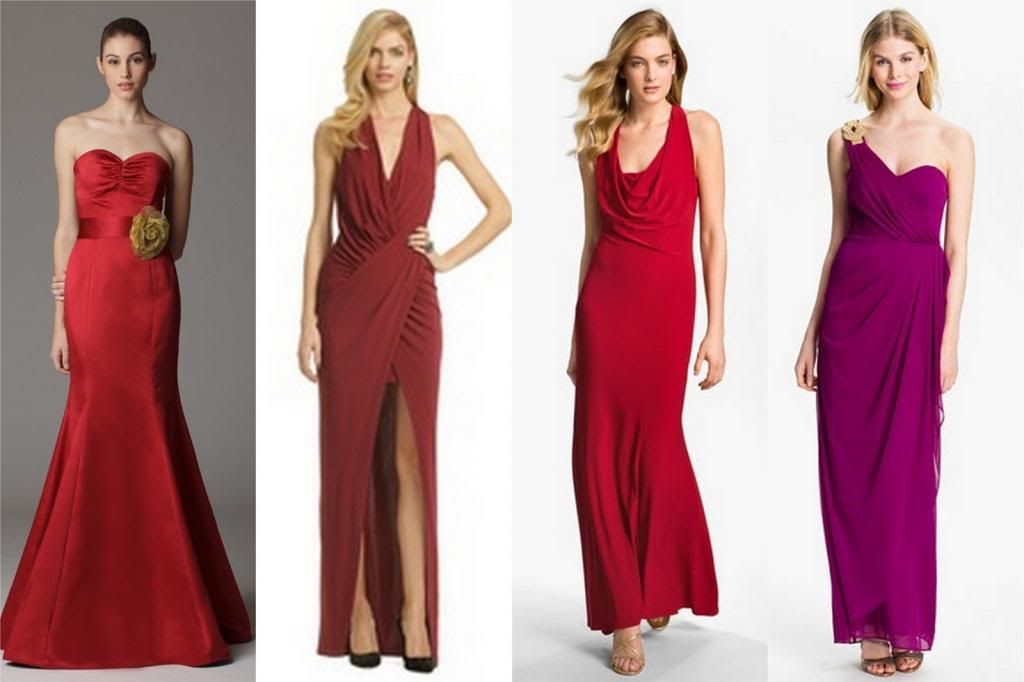 Black is always a classic staple and many celebs wore anything, but basic black to the Golden Globes. Adele, Salma Hayek, Katharine McPhee, Sofia Vergara, Julianne Moore, and Rachel Weisz all looked amazing in black. I know people hated it, but I loved the sheer panels of polka dots on Rachel Weisz's dress. The woman is gorgeous and married to Daniel Craig. I wouldn't mess with her!
Left to Right: Jessica McClintock (via
Nordstrom
), Xscape (via
Nordstrom
), Milly (via
Rent the Runway)
, T by Tadashi (via
Nordstrom
)
Need an invite to Rent the Runway? Click
here
. I've rented a dress from them in the past to wear to a friends wedding and it was the easiest process in the world.
Sadly, the hubs and I are not attending any inauguration balls. I mentioned to the hubs attending the inauguration this year, but because of his surgery it's best for him not to be around masses of people. It's also better for me not to get into any type of physical altercations with anyone that dares to bump into him. Neither the hubs, nor I, agree with President Obama on every issue, but we both agree that
he is an inspiration
and we wish him the best over these next four years. While the crowds gather this weekend and Monday for inauguration, I'll think back to the weekend four years ago when the hubs and I went to see President-Elect Obama on his
inaugural tour in Baltimore.