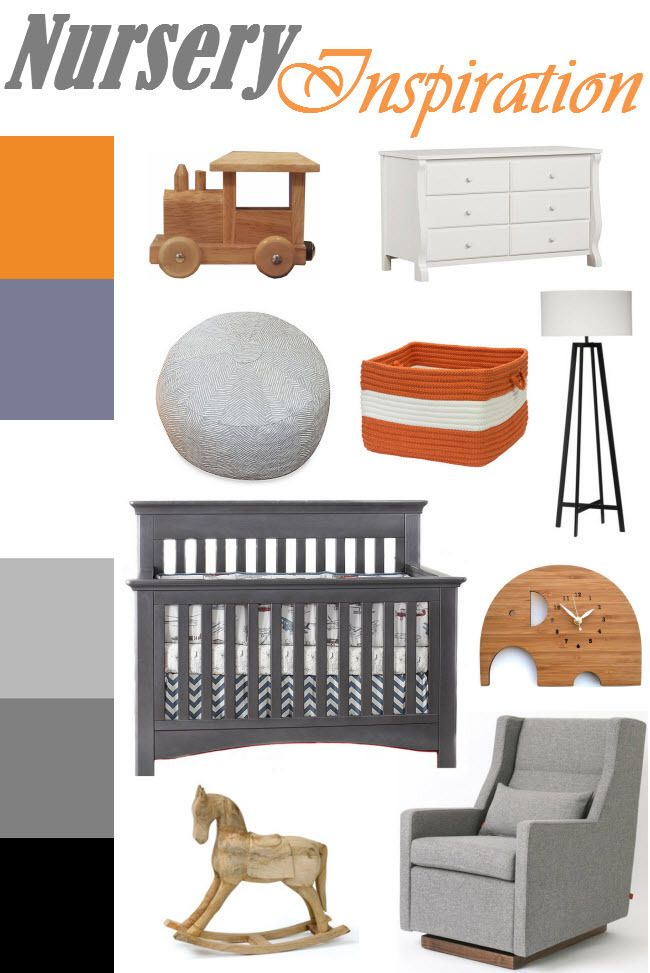 When the hubs and I bought our home in June 2011 we never really decorated the second guest room. We both hoped it would one day be a nursery, but we never called it the future nursery. We threw a purplish-gray paint on the walls from Sherwin Williams and called it a day. The room really became a hodgepodge of random items and my overflow of clothes quickly spread to the room's two closets. A big part of getting the nursery ready meant cleaning the room out and re-homing most of its stuff.
When we found out that we were expecting in December 2014 the very first thing I started to think of was what to do with the nursery. Initially, we had no desire to find out the sex of our little Chalupa Batman, but after two months of not knowing we were ready to know. Since we started out thinking of not knowing we leaned towards a gender neutral nursery. The purple-gray paint color on the nursery's walls is my favorite paint color in the house and I really didn't want to repaint the room. Even before we found out that Chalupa Batman was a boy the hubs was adamant that we didn't have to repaint because "what's wrong with a boy having a purple room?"
Have I mentioned lately that I love that man?
That's when we settled on a black, white, gray color scheme. The wall color would compliment the color scheme nicely and once we found out Chalupa Batman's sex we would add in an additional accent color. Full disclosure, there would most likely be a bit more purple in the room if we were having a girl. However, as soon as we found out we were having a boy the hubs immediately thought a few orange touches would be perfect in the nursery.
Also need to point out that the hubs is incredibly involved in the design and implementation of the nursery. Although he has to keep me in check from time to time with practical logic because I may or may not have tried to buy an orange play teepee to put in the nursery. The hubs was kind enough to point out that Chalupa Batman didn't need a play teepee yet and we could hold off on that item. Same with the small reading chair. Okay fine and a lot of other things.
The room is going to be the combination of our favorite tastes: modern and rustic. Lots of cool gray tones to bring a bit of modern updates to the room. My favorite black and white tuxedo lamp will be over by the gray glider. But then we're incorporating more rustic and natural elements where we can. The hubs is almost finished with the shelves above the dresser and they're gray stained pine shelves with cast iron piping.
However, the most important touches in the nursery (besides Chalupa Batman!) are the handcrafted family heirlooms. My late grandfather used to make wooden toys and trains and I asked my dad if I could have a train to put in the nursery. The train engine is already up on a shelf and my dad is putting together an assortment of train cars and trucks for me. I can't really sum up my feelings on how happy I am that pieces of my grandfather will be in the nursery. In addition, my dad is making Chalupa Batman a wooden rocking horse. It won't be ready in time for August because that type of wood working project is a "winter activity" for my dad, but I'll be thrilled when Chalupa is finally old enough to play with it. My dad made my nephew a rocking horse and I'm excited that Chalupa will be able to share that with my nephew. I'm going to pay my nephew a finder's fee if he can track down my old Lincoln Logs while he's up at my parents house for a few more weeks.
I know when we first started thinking through the nursery I told the hubs we needed a "theme." He objected to an actual theme, although for a week I was totally running with a "Where the Wild Things Are Theme" because it's one of our favorite childhood books. We settled on a color scheme and that's theme enough for us. Putting together an inspiration board was really helpful because there just seems to be an overwhelming number of options out there for baby stuff. Like I might have run around like a crazed kid in a candy store the first time we went into a baby store. I needed a picture of the room in my head that was finite in order to focus my attention and harness my crazy energy. :)